New Zealand tour itinerary name and information

2 Day Bay of Islands Short Escape Tour
Experience the tropical Bay of Islands including the historic Waitangi Treaty grounds and a cruise to the hole in the rock.
Tour summary and feature
New Zealand independent tour
This suggested tour costs from NZD$594 per person (twin share, low season)
Starts in Auckland, finishes in Auckland
2 days/1 nights
Hotel 3 star
Customisable? YES
Viewed 70 times in the last 7 days
Meals included: 1 breakfast, 1 lunch
Tour at a glance
Brief itinerary - 2 Day Bay of Islands Short Escape Tour
Day 1: Auckland to Bay of Islands including Waitangi tour and Russell mini tour. Accommodation: Kingsgate Hotel Autolodge, Paihia
Day 2: Cape Brett and Hole in the Rock Cruise then to Auckland.
Tour full itinerary
Day 1 - Auckland to Bay of Islands including Waitangi tour and Russell mini tour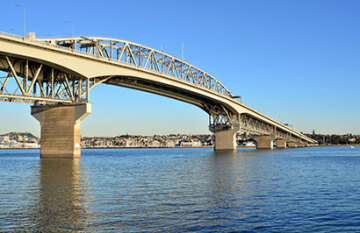 Auckland to Paihia including Waitangi and Russell with GreatSights (Includes Lunch)
Starting in Auckland early, travel north to the Bay of Islands. After arriving in Paihia, visit neighbouring Waitangi for a guided tour of the historic Waitangi Treaty Grounds. Explore the original Treaty House, one of New Zealand's oldest and most visited historic homes and the Te Whare Runanga, a fully carved Māori meeting house, which is representative of all iwi in New Zealand. The Waitangi Treaty Grounds offer a truly unique insight into New Zealand's early history.
After returning to Paihia, take a short ferry ride across the harbour to Russell. From here you will enjoy the Russell Mini Tour by coach. Learn about the features that make Russell so significant in New Zealand's history, and visits areas which cannot be easily covered on foot, like Flagstaff Hill (Te Maiki), which offers stunning 360-degree views of the whole Bay of Islands. After your tour ends you'll have time to wander the township before returning to Paihia. This tour includes a delicious picnic lunch pack.
Your accommodation: Kingsgate Hotel Autolodge, Paihia
The Kingsgate Hotel Autolodge, Paihia is located on the waterfront only 100 metres from Paihia wharf and township. All rooms are air-conditioned and hotel facilities include restaurant, swimming pool, spa pool and sauna.
Meals included: Lunch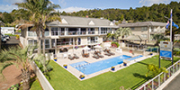 Accommodation details
Day 2 - Cape Brett and Hole in the Rock Cruise then to Auckland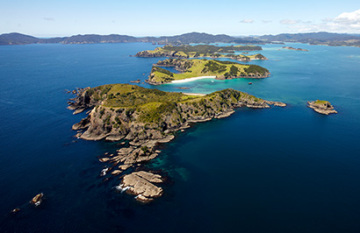 Hole in the Rock Cruise with Fullers GreatSights
Board your cruise and take in the stunning views as you glide out through the islands and along the Rakaumangamanga Peninsula to Cape Brett, where a historic lighthouse keeps watch over and Piercy Island/Motukōkako, or as it is popularly known the 'Hole in the Rock'. According to Māori legend, local warriors used to paddle through the Hole in the Rock in their canoes before departing for battle. Drops of water from the cave roof above were a good omen. If conditions permit, your skipper will expertly guide the ship through the narrow space. Keep an eye out for common and bottlenose dolphins, whales and other marine life during your cruise, and have your camera ready as you get up close to the action. The purpose-built catamaran is licensed by DOC (the Department of Conservation) for dolphin viewing and the crew have years of experience locating dolphins in these waters. Dolphin Seeker has indoor and outdoor seating available, and the largest outdoor viewing decks in the Bay of Islands.
Paihia to Auckland with GreatSights
Enjoy a relaxing sightseeing tour from Paihia to Auckland. The afternoon departure time allows you to spend a full day in the beautiful Bay of Islands before returning to Auckland. Your local driver guide will point out scenic highlights as you travel through farmland and past native forests. At the end of your journey, enjoy the spectacular views from the Auckland Harbour Bridge as you arrive in Auckland's central city by night.
Get an instant quote for this tour
Tour quick quote
You are quoting for the - 2 Day Bay of Islands Short Escape Tour
Tour departure list
All scheduled departure dates & prices for this tour : 2 Day Bay of Islands Short Escape Tour
This tour has 345 departure dates.
Starts
Status
Twin/Double (2 people sharing)
Single occupancy
You save

Jan 21, 2022
(Friday)

Check with us

NZD$638

NZD$764

save

NZD$0

pp

Enquire

Book

Jan 22, 2022
(Saturday)

Check with us

NZD$638

NZD$764

save

NZD$0

pp

Enquire

Book

Jan 23, 2022
(Sunday)

Check with us

NZD$638

NZD$764

save

NZD$0

pp

Enquire

Book

Jan 24, 2022
(Monday)

Check with us

NZD$638

NZD$764

save

NZD$0

pp

Enquire

Book

Jan 25, 2022
(Tuesday)

Check with us

NZD$638

NZD$764

save

NZD$0

pp

Enquire

Book

Jan 26, 2022
(Wednesday)

Check with us

NZD$638

NZD$764

save

NZD$0

pp

Enquire

Book

Jan 27, 2022
(Thursday)

Check with us

NZD$638

NZD$764

save

NZD$0

pp

Enquire

Book

Jan 28, 2022
(Friday)

Check with us

NZD$638

NZD$764

save

NZD$0

pp

Enquire

Book

Jan 29, 2022
(Saturday)

Check with us

NZD$638

NZD$764

save

NZD$0

pp

Enquire

Book

Jan 30, 2022
(Sunday)

Check with us

NZD$638

NZD$764

save

NZD$0

pp

Enquire

Book

Jan 31, 2022
(Monday)

Check with us

NZD$638

NZD$764

save

NZD$0

pp

Enquire

Book

Feb 1, 2022
(Tuesday)

Check with us

NZD$638

NZD$764

save

NZD$0

pp

Enquire

Book

Feb 2, 2022
(Wednesday)

Check with us

NZD$638

NZD$764

save

NZD$0

pp

Enquire

Book

Feb 3, 2022
(Thursday)

Check with us

NZD$638

NZD$764

save

NZD$0

pp

Enquire

Book

Feb 4, 2022
(Friday)

Check with us

NZD$638

NZD$764

save

NZD$0

pp

Enquire

Book

Feb 5, 2022
(Saturday)

Check with us

NZD$638

NZD$764

save

NZD$0

pp

Enquire

Book

Feb 6, 2022
(Sunday)

Check with us

NZD$638

NZD$764

save

NZD$0

pp

Enquire

Book

Feb 7, 2022
(Monday)

Check with us

NZD$638

NZD$764

save

NZD$0

pp

Enquire

Book

Feb 8, 2022
(Tuesday)

Check with us

NZD$638

NZD$764

save

NZD$0

pp

Enquire

Book

Feb 9, 2022
(Wednesday)

Check with us

NZD$638

NZD$764

save

NZD$0

pp

Enquire

Book

Feb 10, 2022
(Thursday)

Check with us

NZD$638

NZD$764

save

NZD$0

pp

Enquire

Book

Feb 11, 2022
(Friday)

Check with us

NZD$638

NZD$764

save

NZD$0

pp

Enquire

Book

Feb 12, 2022
(Saturday)

Check with us

NZD$638

NZD$764

save

NZD$0

pp

Enquire

Book

Feb 13, 2022
(Sunday)

Check with us

NZD$638

NZD$764

save

NZD$0

pp

Enquire

Book

Feb 14, 2022
(Monday)

Check with us

NZD$638

NZD$764

save

NZD$0

pp

Enquire

Book

Feb 15, 2022
(Tuesday)

Check with us

NZD$638

NZD$764

save

NZD$0

pp

Enquire

Book

Feb 16, 2022
(Wednesday)

Check with us

NZD$638

NZD$764

save

NZD$0

pp

Enquire

Book

Feb 17, 2022
(Thursday)

Check with us

NZD$638

NZD$764

save

NZD$0

pp

Enquire

Book

Feb 18, 2022
(Friday)

Check with us

NZD$638

NZD$764

save

NZD$0

pp

Enquire

Book

Feb 19, 2022
(Saturday)

Check with us

NZD$638

NZD$764

save

NZD$0

pp

Enquire

Book

Feb 20, 2022
(Sunday)

Check with us

NZD$638

NZD$764

save

NZD$0

pp

Enquire

Book
Send us an enquiry about this tour
See some tours similar to this one